About us
LOTUS GARMENTS (MFG) Co. Pte. Ltd Trading as National Uniforms is a family owned and managed company.
Established in 1979 to supply the high quality up market MENS WOVEN SHIRT for the local and export market. The company has been very successful in fulfilling its objectives in the local market and has ventured into export to Australia , New Zealand and South Pacific Islands.
LOTUS GARMENTS (MFG) Co. Pte. Ltd is a high quality garment manufacturer specializing in mens woven shirt, trousers and corporate uniform for male and female.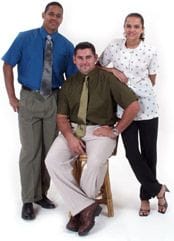 The family business founded in 1904 on strong principals of quality and reliability strictly adheres to these deals today.
The organization is involved in multifarious trading activities in retailing, distribution, manufacturing, export, and corporate uniforms.
The in-house infrastructure and expertise gives us added advantage in designing, development, and souring of fabrics, pattern making and grading to manufacturing.
Our designers are also involved in designing complete wardrobe with corporate identity.
The company is prominent exporter of garments to Australian, New Zealand and Island ports market and enjoys high reputation with leading retailers and major boutique stores.
We presently supply 80% of local corporate uniform market and our clientele include Defense Forces, Catering Uniforms, School Uniforms, Corporate Clients, Insurance Company, Banks , Fiji National Provident Fund and Native Land Trust Board.
Our highest quality standards combined with most modern plant and equipment gives us the competitive edge in quality and price point as well.
Our 200 skilled and fully trained staff are quality motivated and are just as proud to be part of the team as the management.
When you deal with Lotus you are assured of highest quality and modern design with competitive prices. The reliability of supply is guaranteed.
Our present capacity is 3000 shirts and trousers per week in up market quality made by skilled craftspeople in our thoroughly modern manufacturing plant. We are specialized in mens and ladies corporate wardrobe.
The complete control over manufacturing ensures a product that consistently meets our exciting quality standards.
In addition, we use only the finest imported fabrics and most meticulous constructions techniques to create a garment that is unparalleled in appearance, fit, durability, and comport.
We look forward to be of service and shall be pleased to discuss fabric, styling, presentation and pricing.